Blog
: Updates, Homerunner, News
Hello everyone!
We're really excited to announce that we now handle direct bookings for over 720 properties! This is a huge milestone and we are grateful to all of our clients for entrusting us with their direct bookings.
In 2022, we focused on growth and development, specifically working on our own direct-booking engine, Homerunner. And today, we're excited to tell you about some of the recent improvements we've made.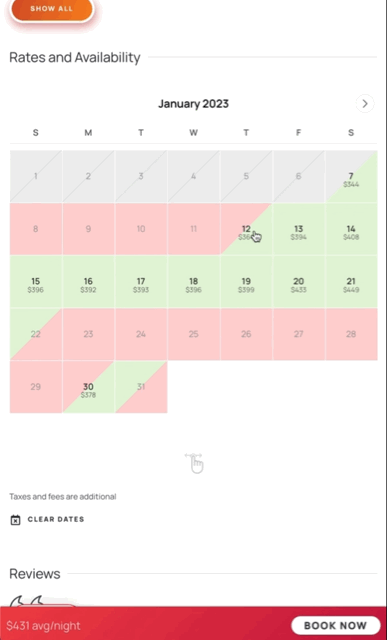 First, we made the booking process easier for mobile users. If you're using a phone or a smaller tablet to view the property pages, you'll now see a persistent booking bar at the bottom of the page. If you've already chosen your travel dates, the bar will display the selected dates and the total cost. You can also view a breakdown of the pricing details if you wish. If you haven't chosen your dates yet, the bar will show the average price and invite you to start the booking process.
We also made some improvements to the Rates & Availability calendar. It's now fully interactive! You can simply click on the dates in the calendar to choose your reservation dates. Once you've selected your dates, they'll be automatically transferred to the booking widget and you can see the total cost for your trip. We've also added a "Clear Dates" button, making it easier to start over. If you've already picked your dates, the calendar will show you which ones you selected.
Rates & Availability calendar also became more mobile-friendly, allowing guests to tap and swipe to move between months.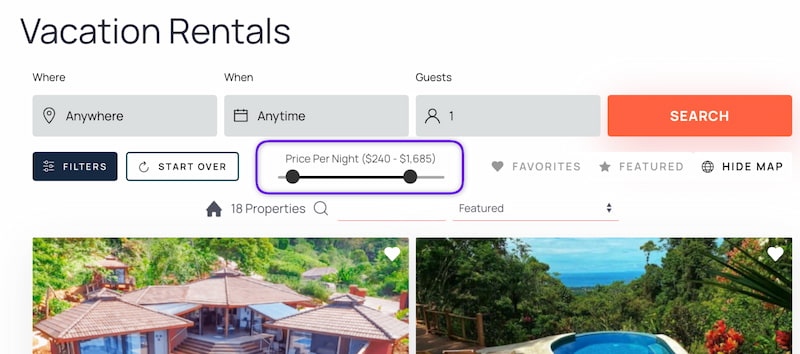 Price Filter got a small but important update. Previously, we had to manually enter the minimum and maximum values for the Price Filter. Occasionally, this meant that some properties wouldn't show up if their nightly price fell outside of the defined range. Now, we calculate the minimum and maximum values automatically based on our pricing data. This means that all properties will always be displayed.
We want to say thank you again to all of our clients for your trust and support. We're always working to improve Homerunner and provide the best possible direct-booking experience for your guests. We have more exciting updates planned for the future, so stay tuned!